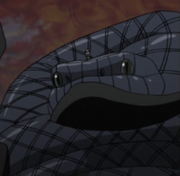 AODA
Mereka juga mendominasi penggunaan energi alami untuk memasukkan Sage Mode itu sendiri. Cara hanya dikenal untuk belajar adalah di Ryūchi Cave dengan Hakuja Sage
karya (蛇, Hebi), juga dikenal sebagai Kyodaija (巨大 蛇; harfiah berarti "Raksasa Ular"), adalah karakteristik doa dari Orochimaru, manusia nya tangan kanan, Kabuto Yakushi, dan siswa mereka: Uchiha Sasuke dan Anko Mitarashi. Mereka tinggal di Ryūchi Cave.
Isi [hide]
Ikhtisar
ular Disebut
Ular lain
invokers
keingintahuan
Referensi
Ikhtisar Mengedit
Mereka sangat bervariasi dalam ukuran, berat badan dan spesies, dari cukup kecil untuk bersembunyi di lengan, lebih besar dari beberapa bangunan Konoha dan cukup tipis untuk digunakan untuk mengikat tangan seseorang [1], cukup kuat untuk tersedak sebuah hewan kolosal sebagai pulau Penyu. [2] Meskipun ular umum tidak dapat berbicara bahasa manusia katak, beberapa penelepon mereka bisa berkomunikasi dengan mereka. Mereka mampu mendeteksi makhluk hidup oleh panas dan bau untuk memantau dan mendorong seruan Anda mangsanya. [3] [4]
Manda II menggantung Pulau Tartaruga.PNG
Manda II, klon ditingkatkan secara genetis dari Manda.
Orochimaru sering memanggil ular dalam pertempuran, atau menggunakannya untuk menyerang atau memerintahkan mereka untuk melakukan tugas-tugas lainnya. Sementara kebanyakan ular yang sangat patuh dan melakukan apa yang mereka diberitahu, ular terbesar, Manda, membutuhkan pengorbanan dari seratus manusia dalam pertukaran untuk bantuan Orochimaru.
Mereka juga mendominasi penggunaan energi alami untuk memasukkan Sage Mode itu sendiri. Cara hanya dikenal untuk belajar adalah di Ryūchi Cave dengan Hakuja Sage
Ad blocker interference detected!
Wikia is a free-to-use site that makes money from advertising. We have a modified experience for viewers using ad blockers

Wikia is not accessible if you've made further modifications. Remove the custom ad blocker rule(s) and the page will load as expected.