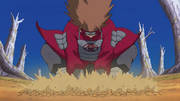 Setelah menggunakan Multi- Ukuran Teknik untuk meningkatkan ukurannya , pengguna terakumulasi chakra di tangan mereka , yang menyebabkan tanda-tanda khusus yang muncul di dalamnya . Berat tangan dan listrik meningkat karena lebih besar , otot-otot yang diaktifkan dengan chakra terkonsentrasi , dan ketebalan juga meningkat . Jumlah chakra begitu banyak yang menjadi terlihat , tangan pengguna menjadi seperti sebuah palu besi . Hal ini memberikan serangan ini kekuatan untuk tingkat tanah , menyebabkan kerusakan yang luas untuk menghancurkan sesuatu yang dapat ditangkap di bawah mereka . Serangan ini juga terbukti memiliki berbagai akibat peningkatan ukuran telapak tangan .
trivia
The " Harite " Sumo adalah teknik di mana Anda menekan lawan dengan tangan terbuka

Ad blocker interference detected!
Wikia is a free-to-use site that makes money from advertising. We have a modified experience for viewers using ad blockers

Wikia is not accessible if you've made further modifications. Remove the custom ad blocker rule(s) and the page will load as expected.