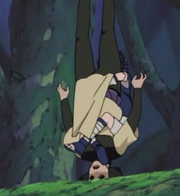 Pengguna meraih lawan jatuh oleh pergelangan kaki mereka , membungkus kakinya di pinggang , dan mengambil terbalik , mirip dengan Lotus Front .
trivia
Sasuke menggunakan teknik dua kali dalam anime tanpa nama ; namanya telah ditetapkan untuk beberapa video game Naruto .
alap-alap kawah burung pemangsa yang ditemukan di sebagian besar Amerika Utara .
Langkah ini kemungkinan besar terinspirasi oleh gerakan perjuangan kehidupan nyata, " Piledriver " .
Ad blocker interference detected!
Wikia is a free-to-use site that makes money from advertising. We have a modified experience for viewers using ad blockers

Wikia is not accessible if you've made further modifications. Remove the custom ad blocker rule(s) and the page will load as expected.