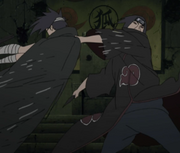 Itachi melompati lawan mereka, menyeimbangkan di bahu lawan (yang memungkinkan pengguna untuk menghindari serangan langsung kepadanya). Setelah mendarat, masih memegang bahu lawan, pengguna meluncurkan lawan ke dalam tanah.
trivia
Dalam anime, kinerja teknis diperluas, termasuk ayunan sekitar tujuan untuk menyebabkan mereka kebingungan sebelum rilis dilakukan.
Langkah ini hanya ditunjuk di Naruto Shippuden: Ultimate Ninja Storm 2.
Nama teknik ini juga merupakan bentuk singkat dari "Mozu di hayanie" (百舌 の 早 贄), yang mengacu pada shrike mangsa impales keras kepala ketika burung, biasanya dengan ranting tajam atau duri. Burung itu melakukan ini sehingga mangsa yang dapat robek menjadi potongan-potongan ukuran yang lebih cocok untuk konsumsi.
Ad blocker interference detected!
Wikia is a free-to-use site that makes money from advertising. We have a modified experience for viewers using ad blockers

Wikia is not accessible if you've made further modifications. Remove the custom ad blocker rule(s) and the page will load as expected.