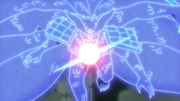 You cast your Susanoo stabilized in an armor for the Nine-Tails, increasing their defense and protecting it from Chakra Absorption Techniques. The Nine-Tails can wield melee weapons of Susanoo and combine them with Beast Balls Train to increase your cutting power and destruction, making it impossible to defend them.
Ad blocker interference detected!
Wikia is a free-to-use site that makes money from advertising. We have a modified experience for viewers using ad blockers

Wikia is not accessible if you've made further modifications. Remove the custom ad blocker rule(s) and the page will load as expected.