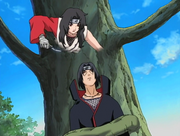 This is one of the genjutsu passed down since ancient times in Konohagakure. The user first disappears from plain sight in a mist-like fashion in order to approach the target without being detected. Once close enough, the target will then be completely robbed of their mobility as they see the mirage of a fast-growing tree coiling itself around them. Given that the subject remains conscious, this technique proves extremely efficient for information-gathering. Once the target is immobile, the user can then attack the enemy, usually after emerging from the trunk of the tree. Though the technique is a powerful one, its effects can bereversed at the user with the power of Sharingan.
Ad blocker interference detected!
Wikia is a free-to-use site that makes money from advertising. We have a modified experience for viewers using ad blockers

Wikia is not accessible if you've made further modifications. Remove the custom ad blocker rule(s) and the page will load as expected.