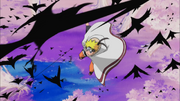 Genjutsu ini memotong korban dalam ilusi yang kuat , tanpa kontak perlu mata ; mirip dengan singkat . Namun , kontak mata langsung selanjutnya dapat diterapkan bila digunakan dalam teknik ini . Ketika digunakan , genjutsu memproyeksikan aliran gagak , meninggalkan lawan pada belas kasihan dari pengguna .
trivia
" Shin " (蜃) adalah spesies air , yang mengubah bentuk naga , dalam bentuk kerang raksasa . Dikatakan mampu menyebabkan fatamorgana dan Fata Morganas . Bahkan , namanya telah menjadi hampir identik dengan " fatamorgana " : di Jepang , kata untuk " fatamorgana " adalah蜃 気 楼( Shinkiro , yang secara harfiah berarti : Bernapas Menara Shin ) .
Meskipun tidak disebutkan dalam anime dan manga , teknik ini dinamai Naruto Shippuden : Ultimate Ninja Heroes 3 .
Ad blocker interference detected!
Wikia is a free-to-use site that makes money from advertising. We have a modified experience for viewers using ad blockers

Wikia is not accessible if you've made further modifications. Remove the custom ad blocker rule(s) and the page will load as expected.