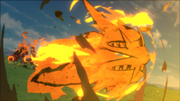 Itachi dan Shisui menyerang lawan dengan Fire Release : Great Dragon Fire Teknik . Melalui api pembakaran Itachi meluncurkan rentetan kunai . Kemudian Shisui muncul di belakang lawan , meraih salah satu kunai dan sejalan dengan Itachi , meluncurkan gelombang serangan dengan kunai di masing-masing tangan .
trivia
Nama teknik ini mengacu pada sebuah puisi di salju , bulan dan bunga-bunga yang digunakan untuk menggambarkan keindahan empat musim
Ad blocker interference detected!
Wikia is a free-to-use site that makes money from advertising. We have a modified experience for viewers using ad blockers

Wikia is not accessible if you've made further modifications. Remove the custom ad blocker rule(s) and the page will load as expected.