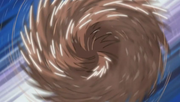 Sebagai efektivitasnya meningkat beberapa kali menggunakannya bersama dengan senjata , teknik ini merupakan versi perbaikan dari Bullet Tank Manusia klan Akimichi .
Menerapkan teknik ini terutama melibatkan pengguna untuk terlibat dengan string terhubung dengan kunai di sekitar tubuh Anda , setelah itu teknik ukuran berganda digunakan . Dari keadaan ini , ada perubahan dalam Bullet Tank Manusia . Menggunakan kunai tips , Anda dapat meningkatkan energi rotasi , dan kekuatan serangan juga meningkat secara dramatis .

Dalam aplikasi lain dari teknik ini , ditampilkan dalam Shippūden tahap Choji cepat membuat rambut Anda tumbuh dan kemudian membungkus sendiri sekitar tubuhnya , dengan cara yang sama ace jarum Jizō Jiraiya , daripada menggunakan kunai . Hal ini menyebabkan lebih runcing daripada versi sebelumnya dan persiapan lebih pendek karena Choji tidak perlu melibatkan kunai seluruh tubuh Anda .

Ad blocker interference detected!
Wikia is a free-to-use site that makes money from advertising. We have a modified experience for viewers using ad blockers

Wikia is not accessible if you've made further modifications. Remove the custom ad blocker rule(s) and the page will load as expected.