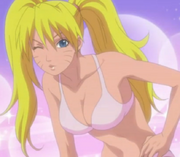 Seksi Teknis hanyalah sebuah teknik transformasi digunakan untuk mengubah Anda menjadi wanita cantik telanjang dalam cara yang sangat menggoda berpose, asap kabut yang menutupi bagian pribadi mereka, atau menggunakan baju renang. Naruto menggunakan teknik ini untuk mengalihkan perhatian atau menaklukkan pria, kadang-kadang menyebabkan perdarahan yang berlebihan oleh korban atau bahkan tidak sadarkan diri, sementara Konohamaru menggunakan terutama untuk mengesankan Naruto.
Setelah Naruto kembali dalam seri Shippuden, ia membual bahwa ia diperbarui jutsu ini, yang ia disebut sebagai versi "baru dan lebih baik" dari teknik ini, tapi ia dilemparkan dari jarak jauh oleh Sakura sebelum ia memiliki kesempatan untuk melakukan itu .
CuriosidadesEdit
Ketika Naruto menjadi seorang wanita ketika ia menggunakan teknik Sexy, dia dijuluki "Naruko" fandom, inspirasi banyak gambar fanart dan fanfiction.
Di fandom, teknik seksi telah digunakan dalam beberapa karakter dari seri sebagai sumber untuk fanart. Hal ini populer di fanart dan konvensi cosplay (memungkinkan cosplayer perempuan, menafsirkan karakter laki-laki, misalnya, dengan nama "crossplay").
Rock Lee tidak Seishun Full-Daya Ninden, Rock Lee menggunakan versi yang berbeda dari teknik ini, tapi bukannya menjalankan teknik saat ini, ia hanya menempatkan dalam bikini. Ini kemudian diadaptasi menjadi Naruto SD Powerful Shippuden.
Sebuah varian dari teknik ini muncul dalam bab pilot Naruto.
Ad blocker interference detected!
Wikia is a free-to-use site that makes money from advertising. We have a modified experience for viewers using ad blockers

Wikia is not accessible if you've made further modifications. Remove the custom ad blocker rule(s) and the page will load as expected.