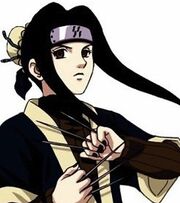 Senbon adalah jarum logam dengan titik di kedua ujungnya . Mereka sering melayani tujuan medis , yang digunakan untuk menyerang titik akupunktur . Mereka memiliki daya bunuh sedikit, tapi dapat dibuang dengan akurasi besar. Seorang pengguna dengan pengetahuan medis yang tepat Namun , secara efektif dapat menggunakan senbon dalam pertempuran untuk melumpuhkan atau bahkan membunuh target mereka harus mereka bertujuan untuk tempat penting . untuk membuat jarum ini lebih efektif , pengguna dapat meracuni ujung senbon tersebut. manfaat tambahan dari melemparkan ini pada musuh adalah bahwa ini adalah lebih kecil dari kunai atau shuriken , sehingga sulit untuk melihat dan menghindar . Seperti yang dijelaskan oleh Shikamaru Nara di Ujian Chunin , ninja dapat juga melampirkan lonceng untuk senbon untuk mengelabui lawan mereka .
Ad blocker interference detected!
Wikia is a free-to-use site that makes money from advertising. We have a modified experience for viewers using ad blockers

Wikia is not accessible if you've made further modifications. Remove the custom ad blocker rule(s) and the page will load as expected.