Taijutsu tunggal Uchiha dan variasi dari Front Lotus . Sasuke berkembang setelah menggunakan S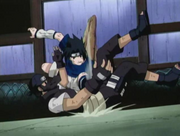 haringan untuk menyalin bagian pertama dari gerakan . Ini adalah cepat serangan combo ultra yang membutuhkan kondisi maju dan ketangkasan tertentu . Pertama , lawan ditendang ke udara , dan dibayangi dengan Shadow of the Dancing Leaf . Untuk menimbulkan pukulan , salah satu mengambil keuntungan dari serangan balik lawan berbalik dan mendaki lagi untuk serangan lebih lanjut . Sejak musim gugur meningkat pada kecepatan dengan setiap stroke , kerusakan yang dilakukan saat lawan akhirnya dilemparkan ke tanah tak terbayangkan . Semua variasi berakhir dengan lawan yang mengetuk ke tanah dan menendang di perut . Namun, seperti Front Lotus , ada kelemahan dalam bahwa pengguna mendapatkan lelah setelah teknik ini dilakukan , tetapi kerugian ini tidak seserius Front Lotus .
Ad blocker interference detected!
Wikia is a free-to-use site that makes money from advertising. We have a modified experience for viewers using ad blockers

Wikia is not accessible if you've made further modifications. Remove the custom ad blocker rule(s) and the page will load as expected.