aijutsu metode di mana pengguna dapat bergerak dengan kecepatan tinggi yang jarang disertai dengan mata telanjang , untuk melakukan serangkaian serangan fisik berturut-turut . [ 2 ]  Dalam rangka meningkatkan penggunaan teknik , Rock Lee memakai beban yang sangat berat sekitar pergelangan kaki, untuk menghambat bagian dari kecepatan . Untuk menarik berat badan mereka , Rock Lee mencapai kecepatan manusia , yang memungkinkan dia untuk bahkan mendapatkan sekitar pertahanan Gaara dan mengatasi persepsi visi dari Sharingan dengan dua tomoe . [ 3 ] Buka di Google TerjemahanGoogle Terjemahan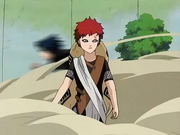 Ad blocker interference detected!
Wikia is a free-to-use site that makes money from advertising. We have a modified experience for viewers using ad blockers

Wikia is not accessible if you've made further modifications. Remove the custom ad blocker rule(s) and the page will load as expected.