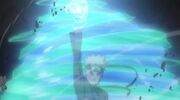 The Taikyoku Rasengan adalah kombinasi dari dua Rasengan normal dan dilakukan oleh film Naruto dan Minato keempat Shippuuden. Menurut Minato chakra dari kedua pengguna harus memiliki kesamaan besar untuk bentuk Rasengan ini bisa. Hal ini jauh lebih besar dari Rasengan normal dan spiral mungkin jauh lebih dan unförmigere lingkaran - tampaknya umumnya terdiri dari lebih spiral dari Rasengan biasa. Ini bahkan cukup kuat untuk memukul mundur serangan. Dibandingkan dengan Rasengan biasa bertindak, karena bentuknya, jauh lebih stabil.
Ad blocker interference detected!
Wikia is a free-to-use site that makes money from advertising. We have a modified experience for viewers using ad blockers

Wikia is not accessible if you've made further modifications. Remove the custom ad blocker rule(s) and the page will load as expected.