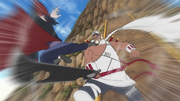 Sasuke menyerang dengan pedangnya , menusuk ke tanah , seimbang di atasnya dan tendangan lawan jauh . Tembakan digunakan biasanya di perut bagian atas ke daerah leher .
trivia
Langkah ini hanya ditunjuk di Naruto Shippuden : Ultimate Ninja Storm 2 .
Dalam Bagian I , selama pertempuran dengan Empat Sound , Sasuke mengadakan gerakan yang sangat mirip dengan ini , tapi bukannya menggunakan pedang , ia mencondongkan tubuhnya dan menendang Kidomaru Sakon terhadap pohon .
Ad blocker interference detected!
Wikia is a free-to-use site that makes money from advertising. We have a modified experience for viewers using ad blockers

Wikia is not accessible if you've made further modifications. Remove the custom ad blocker rule(s) and the page will load as expected.