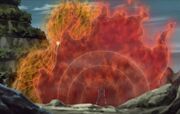 The Yata Cermin (八 咫 鏡, Yata no Kagami) adalah perisai halus dikerahkan oleh Susanoo Itachi. Hal ini dikatakan diberkahi dengan semua perubahan sifat dan karakteristik seperti perubahan sesuai dengan serangan yang diterimanya, menyebabkan serangan untuk menjadi sama sekali tidak efektif.

Hitam Zetsu mengklaim bahwa ini, dikombinasikan dengan Pedang Totsuka terletak di tangan kanannya, membuat dasarnya tak terkalahkan Susanoo Itachi. [2]

pengaruh Sunting The Yata Cermin (草 薙 剑; Secara harfiah berarti "Delapan cermin Feet Under") adalah salah satu dari tiga Perks Jepang Imperial (三種 の 神器; Sanshu di Jingi), bersama dengan Kusanagi no Tsurugi (草 薙 剑; Secara harfiah berarti "Pedang Reaper rumput ") dan Yasakani di Magatama (八尺 琼 曲 玉; harfiah berarti Delapan lereng Joia Curve).
Ad blocker interference detected!
Wikia is a free-to-use site that makes money from advertising. We have a modified experience for viewers using ad blockers

Wikia is not accessible if you've made further modifications. Remove the custom ad blocker rule(s) and the page will load as expected.